Lisbon City Guide
Lisbon is an eclectic metropolis filled with art, culture and incredible food. A true global city with a diverse and multicultural population, the city is alive with sights, sounds and smells that deliver a true feast for the senses. The energy and buzz of the go-getters blends seamlessly with the more tranquil vibe of a Mediterranean country (though technically it doesn't border the Mediterranean Sea). Glorious weather invites people outdoors to sit outside a cafe sipping coffee, relax by the waterfront, or explore the rich history of the city.
Lisbon's Story
According to legend, Lisbon was originally founded by the Greek traveler Ulysses over 30 thousand years ago, and it became known as Ulissipo, meaning "enchanted port". Perhaps Ulysses knew something at that time, as the city proved itself to be deeply desired by many nations in the years to come. From Phoenicians, Celts and Romans, to Arabs and Spaniards, and eventually The Moors and Christian crusaders - it seems everyone wanted a bit of the action.
Fast forward thousands of years and Lisbon became the main port for explorers to set sail, leading to the discovery of new lands across the globe. Having founded new routes to Africa, South America and India, Portugal became one of the most important nations in Europe, with the great Tagus River bringing prosperity through trade.
A devastating earthquake in 1755 was a turning point for the great city, with over half of the building being destroyed. Intense inland fires and a crippling tsunami followed the quake, marking the end of a prosperous trade era for the Enchanting Port. But in true Lisbon style, the city was rebuilt, allowing for a more modern design to open up the city once again. Recent years have seen Lisbon begin to thrive once again, and it is now home to a diverse population and stunning architectural presence.
Things to do in Lisbon
This rich and exciting history sets the scene for the vibrant city that Lisbon is today. There are endless things to see and do, from castles and towers to museums and cathedrals, you can easily fill your days without even trying. Here's a few top sights and must-do activities to get you started.
Ride on one of Lisbon's iconic trams, taking tram 28 for a classic journey between Martim Moniz to Campo Orique, passing through Graca, Alfama, Baixi and Estrela on the way. It's a great way to see parts of the city you might not have discovered otherwise

Explore the beautiful churches and cathedrals dotted around the city, like the Convento da Ordem do Carmo and the Sé de Lisboa

Visit Castelo de São Jorge and take in the stunning views

Stroll down the riverside to see the Belem Tower and famous 25 de Abril Bridge

Ride the Santa Justa Lift in that takes you from the lower to upper lever streets in Baixa

Check out the impressive azulejo tiles around the city
Hangout by the waterfront and soak up the laid back atmosphere

Check out the Time Out Market for an epic culinary experience

Head to pink street to have a drink in one of the cities coolest bars, or simply to admire the awesome colour of the street below your feet

Indulge in a few Pastel de Nata, Portugal's infamous egg tarts. Fábrica da Nata and Pastéis de Belém are definitely our favourite places to get them from

Take a day trip to Sintra and visit the iconic yellow Pena Palace

Cycle along to coast to the quaint town of Cascais and soak up the sun on the glorious beach there

Rent an electric scooter to zip around the city
One of the best things about Lisbon is the great weather and chilled out vibe, so be sure to make time out of your busy schedule to hang out in the local parks or by the waterfront and just soak up the atmosphere. Grab a beer or a glass of vino, maybe a cheese plate and some olives. Lay back, catch some rays, and just relax.
Lisbon has several distinct neighbourhoods that all have something fun and unique about them. Explore the backstreets of Alfama as you wind down the cobbled streets and walkways between buildings. Pop in and out of boutique and luxury shops in Baixa, and find hip and quirky bars in Barrio Alto. Find your favourite azulejos and patterned tiles that line buildings and public spaces, and discover awesome street art across the city.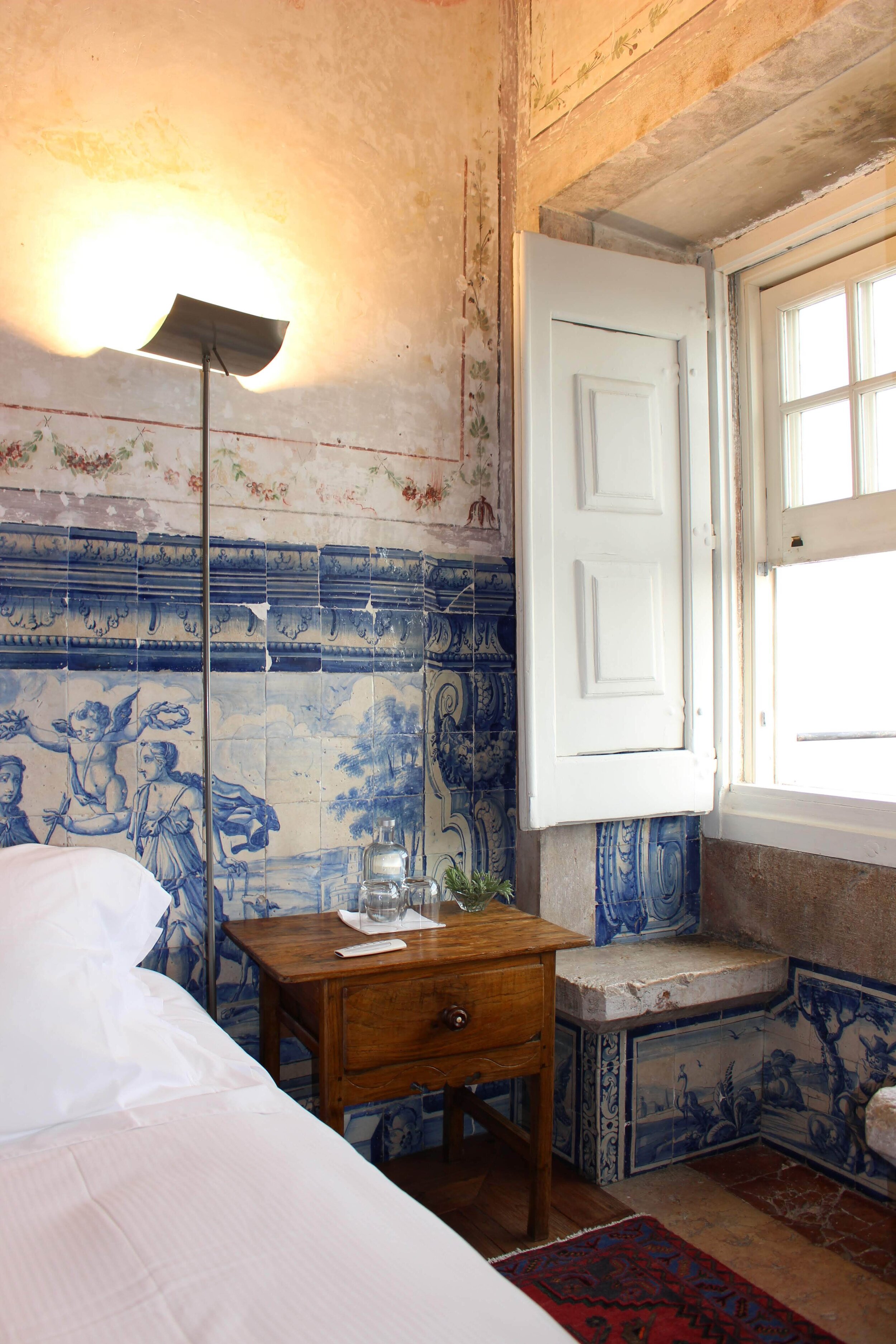 For the ultimate Lisbon experience, treat yourself to a stay at the renowned Palacio Belmonte. Adjoining the cities most visited landmark, Castelo de São Jorge, Palacio Belmonte will wow you with history, art and culture, whilst offering the most incredible views of the city. Indulge in a delicious breakfast from your private terrace as you overlook the awakening streets of Alfama below. Marvel at the original azulejo tiles that line the Palace walls. Soak up the tranquil atmosphere as the sunlight beams in through the 365 windows around the building. It's a guesthouse unlike no other, a quintessential Lisbon experience.
Hotel Heritage Avenida Liberdade
Stay in the heart of the action at this beautiful boutique hotel. Located on Lisbon's main boulevard filled with international designer shops, trendy bars, and top rated restaurants. Hotel Heritage Avenida Liberdade offers a spacious and comfortable stay, complete with indulgent breakfast, spa and gym facilities, and unbeatable service.
Where to Eat
Lisbon's food scene is second to none. From traditional Portuguese dishes to international cuisines, the city has no shortage of great restaurants. Be sure to try some fresh seafood as well as the local favourite, bacalau, which is salted cod served in a variety of ways (all of which are delicious). And of course no trip to Lisbon is complete without indulging in one or two Pastéis de Nata, Portugal's infamous egg tarts.
A cosy candlelit restaurant hidden down the winding streets of Alfama. Traditional Portuguese dishes are given a contemporary twist offering a delicious seasonal menu using locally sourced ingredients. The ever-changing wine list encompasses a selection of the regions finest wines from small vineyards across the country.
A welcoming family run restaurant offering indoor and outdoor seating in the delightful neighbourhood of Alfama. An exciting menu of traditional and locally inspired dishes will keep you coming back for more. Open for brunch, lunch and dinner, you can visit any time of day. There's also an extensive wine list and swanky wine bar to enjoy a bottle as the night closes in.
When to Go
Lisbon is blessed with incredible weather all year round, so there's really no bad time to visit.
High Season
June - September
Highs of 28°C, sunny
Shoulder Season
March - May, October
18°C - 23°C, mostly sunny with a small chance of rain
Low Season
November - February
Highs of 17°C lows of 8°C, sunny with a little bit of rain
What to Pack
No matter what time of year you visit, there's a few essentials you'll probably want to bring.
Comfortable shoes for walking

Sunglasses

Suncream

A light jacket (even summer evenings can feel cool compared to the high temperatures during the day)

A lightweight waterproof jacket or umbrella in case of showers

Euros

And of course… a camera!